Maintain a LIAS Access Point
Login
You will log in to the app here: http://ap.lias.ca/
(tip: bookmark that page)
Use your lasquet.ca login and password.
Note: the AP app is NOT accessed via lasqueti.ca, you must login to the app here: http://ap.lias.ca/
Permissions
To help us ensure the integrity (and privacy) of the data stored in the AP app, each user is given a fairly restrictive set of permissions (e.g., LIAS directors, staff, volunteers, and members have different permissions and capabilities on the site).
As a Maintainer, you should be able view the Access Point Summary, and submit AP Inspection Reports:
AP Status
In the Access Point Summary, you can get a quick overview of the status of each AP -- when was the last time it was maintained, are there any outstanding maintenance items that need attention, etc.
You can click on any AP in the summary to view detailed information about that AP, including a list of members connected to the AP.
For AP's with remote monitoring systems, you will also get a summary of the live voltage and a link to access the remote monitoring system to view charging history.
Submit an AP Inspection Report
The heart of the system are the inspection reports made by volunteer AP Maintainers when they visit an AP site.
From the "Access Points" menu, choose "Submit AP Inspection Report".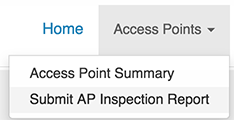 You will be presented with a form to record details about your inspection, to make note of any repairs, maintenance, or supplies required at the AP, and to notify LIAS tech staff if there is an issue that needs immediate attention. You can attach one or more images to your report, if a photograph or diagram is required.
If you have a mobile phone or tablet, you can enter the form data directly while on-site. Otherwise, you could print a paper copy of the form (download printable PDF here) to fill-out on-site, and then enter the report information when you are back to your computer.
Make a Request / Track a Job
Each AP maintains a 'Job List' for tracking on-going projects, equipment requests, etc. You'll find the job list at the bottom of the AP page, and there you click on any job to see the current status or add a new comment. You can also make a request or suggestion by adding a new job for the AP.
Notify AP Members
If the Access Point is likely to be powered down during maintenance or you need to contact all members connecting to a specific AP, a link on the AP page allows you to send an e-mail to all the AP users:
Feedback Welcome
The LIAS AP app is a custom-built piece of software, designed to improve communications between the board, staff, volunteers, and members. If you have questions about how it works, or suggestions for new features or ways in which it could be improved to serve your needs better, please contact us -- your feedback is very much appreciated.