About Lasqueti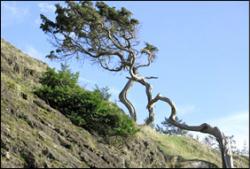 Lasqueti Island lies in the Georgia Strait, north of French Creek (on Vancouver Island), and southwest of Texada Island. It is approximately 8 km wide and 22 km long, with an area of 73.56 km2. About 425 permanent residents call Lasqueti home (2011 census). It is accessible by foot passenger ferry service only, or by private boat or plane.
The roads are unpaved and the island has no public transportation. There are no public camp grounds. Lasqueti is not serviced by B.C. Hydro. Residents live either without electricity or with alternative sources of power like solar or micro-hydro. There is very little industry and no bustling economy.
Currently, the best maps of Lasqueti can be found at the Island's Trust.