APC False Bay Parking Proposal - draft map
Here are photos of the draft map outlining the proposed parking areas in the False Bay area.
There are printed copies of the map at the Arts Centre, the Community Hall and (I think) the Post Office.
This work follows from the APC Report on Parking in False Bay, submitted to the LTC in June 2011.
Comments on the proposal are welcome and desired.
The Lasqueti Trust Committee will begin to discuss this draft, and comments on it, at our meeting next Thursday, February 28. We won't be making any final decisions then, just beginning the discussion.
Please submit your comments on the web site, or to one of the Trustees or APC members, or by mail or emai to our planner, Linda Prowse at the Gabriola Island office: 700 North Rd
Gabriola Island, BC V0R 1X3 lprowse [at] islandstrust [dot] bc [dot] ca
Here are the exact items recommended by the APC on parking, taken from the minutes of their January 15 meeting, APC members Wayne Bright, Gail Fleming, Tim Peterson, Tom Weinerth, Susan Kristinsson and Nadine Simpson attending:
1. Main Road from T-Pot Corner: No ovenight parking from T-Pot Corner to Laing Lane on either side of the street.
2. Main Road from Laing Lane to Pemberton Road: No Parking.
3. Main Road from Pemberton to Church Parking Lot: 30 days parking (as per provinicial guidelines) for small vehicles only.
4. Main Road from Church Parking Lot to Weldon Road Corner: Maximum 7 days Northwest side only. No parking on the South West Side due to the extension of existing sidewalk from Weldon Corner to Regional District Property with Arts Centre.
5. At the corner eof Main & Weldon on the northwest side of Main Road: Create a barrier for a no parking zone for approximately 8 meters (to be surveyed).
6. From the newly created barrier to the dock: No overnight parking on Northwest side of Main Road.
7. From Weldon Road to Hotel Property on South West sid of Road: NO PARKING - sidewalk zone.
8. On Regional District lot at SW cornere of Weldon and Main, a bulletin board, and as suggested by PRRD, a water tower. (one abstention)
9. Create a minimum of three parking spaces designated "loading zone only" 30 minutes maximum.
10. Backfill old ramp to create a 'seawall' brought up to grade of road to create new parking spaces.
11. From the SW corner of PRRD lot (info kiosk lot) to Pat Forbes' property line: allow for 30 day parking.
12. Along the East side of Weldon Road: No Parking
13. Weldon Road Ramp parking is to remain as is currently posted (3 days in transit parking only).
14. On Weldon Road, on NW side of the land designated as "vip-74002 lot A (Pat Forbes' frontage): No Parking
15. False Bay side roads: Pemberton, Laing Lane, Williamd Road, Arts Centre Backstreet (to be created): 30 day parking on one side only. (Tim P/Sue K opposed)
The APC recommends that all newly created parking zones be signed and posted with terms and conditions noting that vehicles are subject to towing.
The APC recommends that a Long Term parking lot be developed by the Regional District.
APC views the parking and traffic issues as a high Public Safety issue and urges the trustees and staff of the Trust to move expeditiously to evaluate and address the recommendation coming out of this APC review.
It is moved that the marked map and the above "items" and motions be presented to the Lasqueti Trust Committee as our recommendations for the False Bay Master Plan.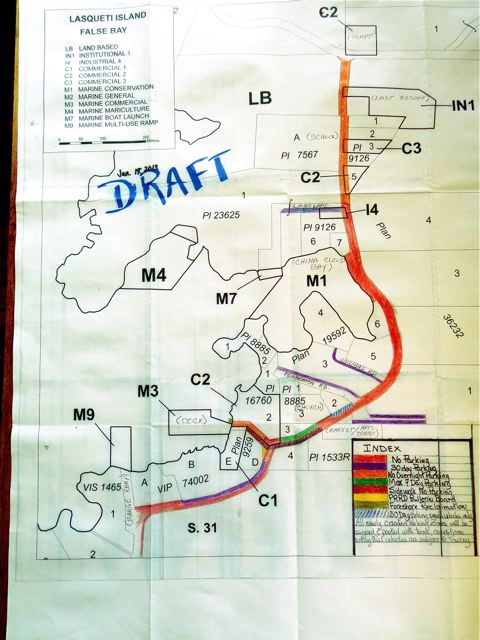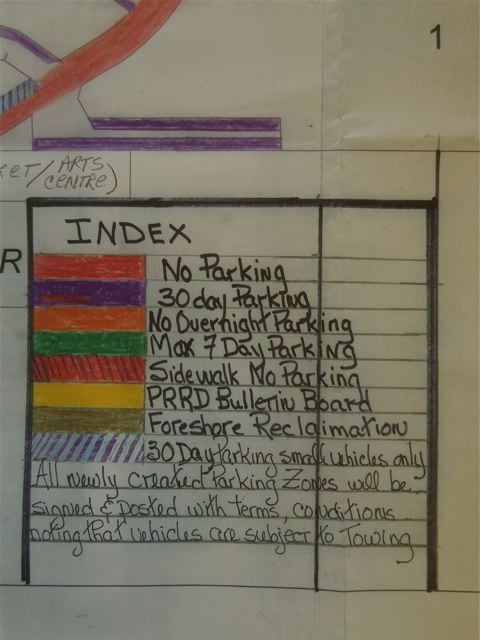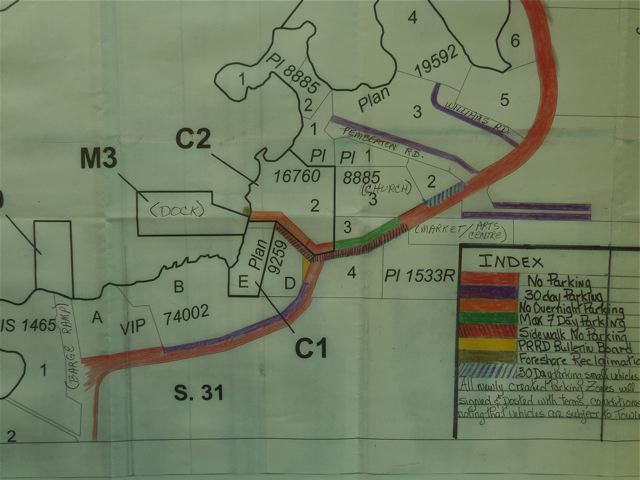 Joseph drafted an informal summary of the Issues and Potential Solutions raised at the public meeting held Feb. 22 at the Arts Centre to help create a framework for constructive discussions (attached below).