Lasqueti Yacht Club
LASQUETI YACHT CLUB 2023
UPCOMING EVENTS
Saturday September 30 - ANNUAL GENERAL MEETING
Note that the date has been changed
4:00 at the Teapot House
Social event will follow the AGM
PREVIOUS EVENTS
Tuesday July 25 - FALSE BAY LASER EVENT AND BARBEQUE 3:00 p.m.
Check out some new photos from this very successful event.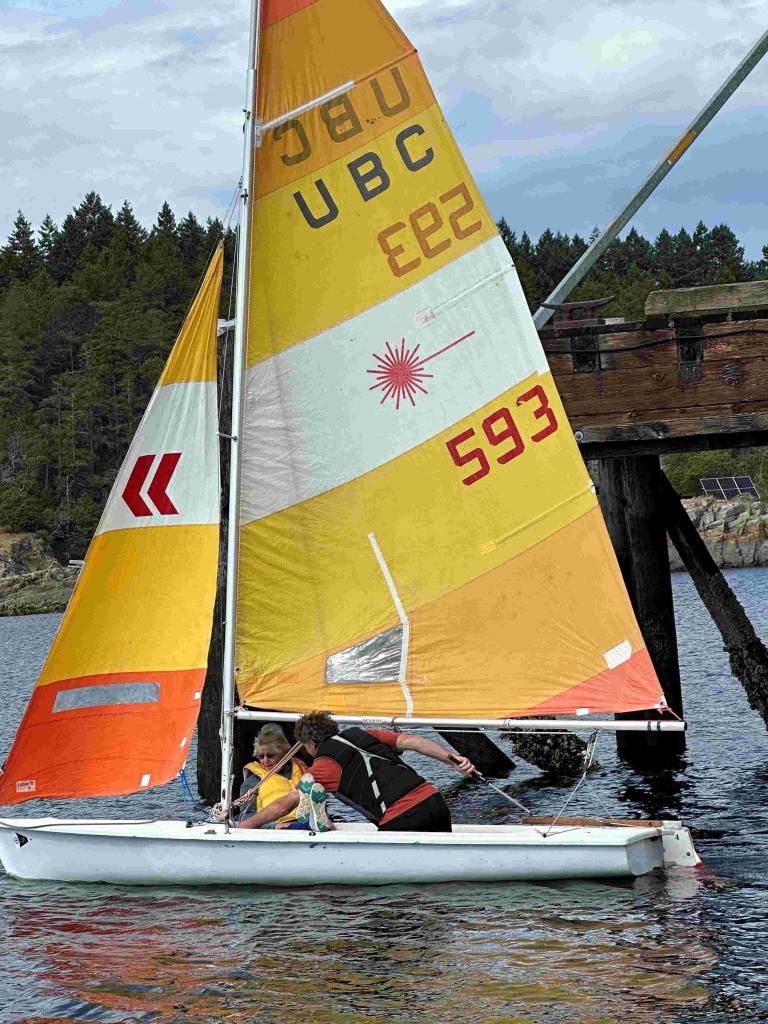 Saturday July 15 - SPRING BAY WATER/BEACH EVENT
Message from Vice Commodore Richard Chesham
Check out the highlight video here:
Thanks To all
What a perfect day. Once again we had a great time on the beach. Thank you to all who came out to participate and spectate. The kids had fun, and so did the adults. We figure about 120 people attended this year again.
A BIG, BIG, Thank you to all the people who helped to make it happen, it takes a village to have a really great party!
The Lasqueti Yacht Club hopes to see you all again next year: July 20, 2024
Membership fees 2023
Family $60
Single $40
LYC Cookbook - coming in 2024!
The Club is collecting recipes for a cookbook - submit your best on board recipe (more details to follow). As well as recipes, chef photos and shots of Club events are welcome.
Sailing Program - Peter Steenbergen
The Lasqueti Yacht Club has purchased 8 Laser dinghies we now have the opportunity to start a Sailing Program, with the goal of attracting more people, young and old, to the sport of sailing.
We are now putting together a Sailors Group within the LYC to make this happen. We need Club Members to join this group and work on what needs to be done.
Burgees
Burgees are for sale to Club members for $25 each. Please contact the Commodore or any Executive Committee member and we will arrange for delivery.
Past Events
Sail Past 2021- video
ABOUT LYC
The LYC was formed to represent the interests of Lasqueti Island's boating community.
The Objectives of the Club are:
(i) to promote, encourage and foster the development of yachting, both power, sail, and all other aquatic sports,
(ii) to promote marine safety and develop seamanship and handling skills of small sail and motor craft with inclusion of safety course and instruction and all other legitimate activities in connection therewith,
(iii) to foster a friendly and co operative spirit among its membership and association,
(iv) to cultivate fraternal relationships with other yacht clubs,
(v) to perpetuate the tradition and fine spirit of the sport of yachting and boating, and
(vi) to arrange facilities for recreation and events for its members and associates on a non-profit basis.
Current Directors
Commodore – Doug Dobbyn
Vice Commodore – Richard Chesham
Staff Captain – Christine Hosford
Fleet Captain – Peter Steenbergen
Treasurer – Tracee Carey
Secretary – Darlene Olesko
Rear Commodore & Laser Program Coordinator – John O'Connor
Past Commodore – Karl Darwin
Director - David Anderson
Director – Gwen Bigsby
Director & Membership Coordinator – Don Dempster
Director – Jim Millicheap
Director – Annaliese Reckwitz
Club photographer - Camino Cochrane
Sergeant-at-Arms - Barry Hawkshaw
Web page editor - Sue Ashcroft
Membership
Every candidate for membership, where possible, shall be proposed and seconded by a Member or Associate member in good standing to whom the candidate shall be personally known.
All applicants for membership will use the form or forms provided by the Board of Directors. The properly and fully completed forms are to be forwarded to the Lasqueti Yacht Club c/o Membership Chairperson, Lasqueti, BC V0R 2J0, together with the prescribed one year membership fee.
The Board of Directors reserves the right to review any application. The Board of Directors or membership committee who at their discretion may, by a 3/4- majority, vote to elect the applicant to membership in the Club. In the event of non- acceptance, all fees received by the Club shall be returned to the applicant.