Use the Lasqueti E-mail List
Subscribing to the list
To subscribe to the Lasqueti E-mail List, you must have a "connection" to Lasqueti and its community. Simply visit: http://lists.lasqueti.ca and fill out the Subscription Form near the bottom of that page - it looks like this: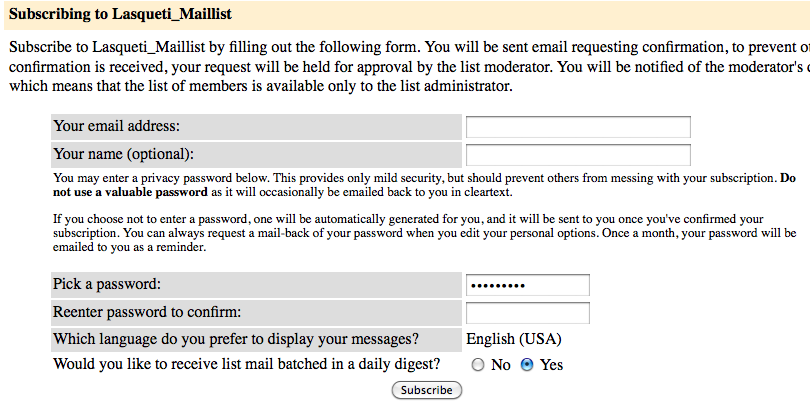 Receiving List Messages
By default, all messages received and approved for distribution to the list each day are collated into a "digest", typically sent out once per day. In this case, you will usually receive a single e-mail each day containing the collection of messages sent and approved the previous day. On busy list days, when more that 8 messages are received or in other special circumstances, you may receive an additional e-mail.
If you examine the subscription form above, you'll see this option near the bottom:
"Would you like to receive list mail batched in a daily digest? No Yes"
If you would like to receive each message immediately after it is approved for distribution (and thus get messages in a more timely manner), simply select "No".
Sending Messages to the List
The Lasqueti e-mail list is semi-automated, but every message is "moderated" by one of several community volunteers before being sent out to you. The list moderators ensure that spam is removed, and that submissions don't include long "reply quotes" or "signatures", or other irrelevant and distracting stuff (see http://lasqueti.ca/files/moderation-guidelines.pdf for details).
The "daily digest" that most list recipients receive is a collection of all messages "approved" by the moderators the previous day - it is automatically sent out at 5am (or when it exceeds 8 messages). Since a moderator must pre-approve your message, submissions received after moderators turn their computers off for the night will NOT be "approved" until the following day, and thus appear to be "delayed" by over 24 hours.
Please get time-sensitive postings sent in as early as possible - certainly by early evening - or your message may languish "in the queue" for a day. You can (and should) post event notices, important announcements, or classified ads on the Lasqueti web site (see http://lasqueti.ca/books/how-to/create-content ) - such posts are automatically sent to the e-mail list. This allows anyone who checks the website, including those who do not subscribe to the e-mail list, to learn about your post right away.
If something very important, and time-sensitive, and comes up at the last moment, you could consider calling one of the moderators, wake them up and ask them to get out of bed, turn on their computer, and approve your posting. It had better be important and have just come up, and not be late because you didn't get around to it earlier. And should be followed-up with a nice loaf of bread, a chocolate cake, or other offering of appeasement ;-)
Changing Your Subscription Options
Each month, the e-mail list will automatically send you a "mailing list memberships reminder" with instructions for accessing your subscription settings. Here, you can update your e-mail address, cancel or suspend your subscription (e.g., while you are away), or switch between receiving the "daily digest" or individual messages. The link (URL) to your settings page and your list password are supplied in the reminder e-mail - it looks like this:

Use the forms on that page to update your preferences and settings. For example, to switch from "daily digest" to "receive individual messages", simply tick "Off" for the "Digest Mode" option, then click the "Save" or "Submit" button to save your changes - it looks like this: