ABOUT THE BAND
Makeke Marimba is a vibrant, energetic dance band from Lasqueti Island, B.C.. Our music is inspired by the Shona tradition of Zimbabwe. The music is based on ancient melodies and poly-rhythms originally played on mbira (elaborate wood and metal thumb pianos).
Instruments include seven wooden marimbas ( 3 sopranos, 2 tenors, a baritone and a bass), mbira, gourd hoshos, drums, assorted percussion, and voices. The marimbas were built on Lasqueti Island by members of the band.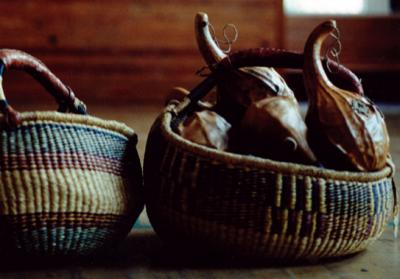 Since 1996, Makeke has performed off island at dances, benefits, weddings, and the Zimbabwean Music Festival; and on island at the local bakery, the Saturday Market, the Arts Festival, and our beloved annual dock parties.
CURRENT BAND MEMBERS
What do you get when you put together :
a gaggle of gardeners, a few nerds, a poet, a painter, an excavator operator....?
A Marimba Band!!
Through the years the music keeps playing on. Some band members dance away and new ones jump right in. The current members of Makeke are:
| | | |
| --- | --- | --- |
| Josie | Sue | Doug |
| Don | Chris | Sophia |
| Joseph | Katrina | Jessica |
| Rob | Brigitte | Finnerty |
TEACHERS AND FRIENDS
Our first teachers were members of the Victoria, B.C. band Marimba Muzuva, who taught us how to build the instruments and to play, and who continue to offer friendship and inspiration. Special thanks to Dean Samuel and Ted Wright.

We have also worked with many musicians and teachers from Zimbabwe and from around North America. We thank them all, especially Pasipamire Gunguwo, Kurai Mubaiwa, Kokanai Mzite, Garadziva Chigamba, and Steven Golovnin.
"Makeke" means "lots of cake" in Shona, and in current usage has come to mean "very good, very sweet." We hope you find our music makeke!
CONTACT US
To buy our CD or to book the band for your upcoming event:
email: makeke [at] lasqueti [dot] ca