Lasqueti Island lies in the Georgia Strait, north of French Creek (on Vancouver Island), and southwest of Texada Island. It is approximately 8 km wide and 22 km long, with an area of 73.56 km2. About 425 permanent residents call Lasqueti home (2011 census). It is accessible by foot passenger ferry service only, or by private boat or plane.
The roads are unpaved and the island has no public transportation. There are no public camp grounds. Lasqueti is not serviced by B.C. Hydro. Residents live either without electricity or with alternative sources of power like solar or micro-hydro. There is very little industry and no bustling economy.
Archaeological Heritage
Peering into Lasqueti's Past
Click here to view some of the artifacts and sites found on Lasqueti
The archaeological record of Lasqueti, like that of many of the Gulf Islands, bears witness to the island's rich indigenous heritage. And, consistent with other island communities, Lasquetians feel a deep connection to their island and its history. These web pages are designed both to pay tribute to our island's ancient heritage and to protect this heritage through education.
What kinds of archaeological sites are on Lasqueti and where are they?
Living on an island means, by definition, that many people will have homes on or near the water. People today choose these places so they can easily access the ocean, which in turn offers transportation and communication routes, sustenance, and, of course, beauty. Ancient people chose to put their homes in the same spots for many of the same reasons.
Our archaeological surveys of the island and perusal of private artifact collections tell us that First Nations used much of the island in the past. Large sites representing permanent settlements are located in almost every bay on Lasqueti These sites are composed of large amounts of mollusk shells and minor amounts of other remains (animal bones, artifacts). In many cases, ancient people created expansive flat, house platforms on otherwise rocky, unlivable surfaces by bringing countless basket-loads of shell from the beach. If these were properly excavated, we would find the remains of 1000s of years of super-imposed floors of longhouses (with hearths, post holes, storage pits, etc.) on top of these constructed platforms. Based on artifact styles, these longhouse villages date sometime within the last 2000-3000 years.
In association with some of the larger seaside settlements on Lasqueti are fish traps where the ancient Lasquetians trapped and sometimes stored the abundant fish of Georgia Strait. Such ancient extraction and management techniques allowed for the relatively high density of ancient settlements on the island. Click here for more information on one Lasqueti fish trap and to view photos.
Indigenous peoples used the inland areas of Lasqueti in two ways. Based on the artifacts people find in their gardens, we can tell that people hunted deer and gathered berries throughout the island's interior. The form of some of the projectile points suggests people have been camping in Lasqueti's inland since 6000-8000 years ago.
The second use of the inland was as a retreat during times of conflict. These refuge sites are recognizable by shell located a considerable distance inland and up slope from some of the larger settlements. Such sites are usually on promontories with good visibility out to sea, but as much as 40m above the ocean. Based on archaeological work elsewhere in the northern Gulf Islands, such sites date to the last 1000 years or so.
To find out more about the island and the region's rich past, read these articles from the Isle & Times about the archaeology of herring and obsidian or go to this web site http://www.sliammonfirstnation.com/archaeology/
The status of Lasqueti's archaeological heritage
Despite the fact that Lasquetians generally have a strong connection to and respect for our island, we are doing a poor job of protecting our collective archaeological heritage. Not surprisingly, many of the island's coastal sites were destroyed in the mid 20th century as a result of logging, other development, and early settlements. Since that time, however, with easier access to bulldozers and backhoes, and increasing demand for waterfront property, the rate of archaeological site destruction on Lasqueti has increased greatly. Unless we make a concerted effort as a community to slow down the destruction of sites, the record of Lasqueti's deep history will be lost forever.
To find out more about the laws that protect Lasqueti's archaeological sites and your rights and responsibilities if you have an archaeological site on your property, read these two Isle & Times articles from 2002 and 2005.

Ancient Sea Levels on Lasqueti
People often tell me that they've seen shells or blue ocean clays in unlikely places on Lasqueti – well inland and at much higher elevations than current sea levels. These deposits are remnants of higher ocean levels at the end of the last Ice Age and can be used to figure out where Lasqueti's shoreline was in the ancient past. Since Northwest Coast peoples usually settled along the shore, understanding ancient sea levels can in turn help us find the archaeological sites associated with Lasqueti's earlier occupants.
In the past 15 years, archaeologists, working with various other "paleo-scientists" have learned a lot about ancient sea levels on the BC coast. For a long while, scientists thought about sea level using a very basic equation: during the Ice Age, when much of the ocean's water was tied up in ice, sea levels at the global scale were lower than today. More recently, however, advances in a range of analytical techniques have made it possible for scientists to reconstruct detailed, local sea level histories. This is especially important in British Columbia where sea level history is vastly different from region to region. For instance, the sea level histories of the lower Fraser Valley or the west coast of Vancouver Island are quite different from the one early Lasquetians experienced.
Several factors cause sea level history to vary from one area to another. In the case of Lasqueti, among the most important factor was the enormous weight of the ice that covered the Island during the end of the last Ice Age (the Pleistocene), some 14,000 years ago. At that time there was a sheet of snow and ice several hundreds of meters thick that covered most of mainland BC and extended to just south of Seattle. Because the earth's crust is flexible, the weight of the ice pushed down the earth's crust (termed "isostatic depression") and the relative level of the sea rose. This is despite the fact that a significant amount of the ocean's water was tied up in that ice. In places that were ice-free south of Seattle, sea level was relatively lower, because there was no depression of the earth's crust.
When the ice started to melt rapidly after 14,000 years ago, changes in sea level were dramatic. The melting of the ice sheet resulted in the crust immediately (geologically speaking) springing back (termed "isostatic rebound")—which should result in relative sea level decreasing as the earth's crust rose. However, at this same time, globally, sea level was rising because of the input of the melting ice into the ocean. The result is that changes in sea level can reflect a complex interaction between local isostatic rebound and global sea level rise.
What does this mean for Lasqueti? Well, thanks to the work of geomorphologist Ian Hutchison and others who visited the island about 10 years ago, and to Wayne Bright for showing me (very) old shells on his property, we have a pretty good idea of the local sea level history of our island. The geomorphologists sampled several lakes on the north end, and obtained radiocarbon dates for the layer of clams (an old beach) on Oben Road (at ~ 56 meters elevation). The attached figures show you what Lasqueti looked like between 14,000 – 13,300 years based on the work of the geomorphologists and a date on one of Wayne's ancient beach shells.
Lasqueti's Sea Level History
Before 14,000 years ago, Lasqueti was actually represented by a few islets, with the largest island centered on Mt. Trematon (so, in protecting Mt. Trematon, we actually were conserving Lasqueti's oceanfront, the ancient core of what is now a larger island!). A deposit of large clam shells found while digging a pond on Teapot House land likely dates to this time when sea level was 150 meters higher than today.
Between 14,000 – 12,500 years ago, the relative sea level around Lasqueti dropped dramatically and quickly, associated with the removal of the ice's weight and consequent isosatic rebound. One of the shells sitting in the old beach in Wayne's orchard (~47 meters elev.), dating to ~13,300 years ago, shows just how rapidly sea level dropped: from 150 m above current level to 47 m above the current level in just 700 years (see images below). The shells collected by Ian Hutchison's team from the ancient beach at Oben Road (~56 meters elevation) were a similar age. By 12,500 years ago, sea level was about where it is today, but it didn't stay at this level for long.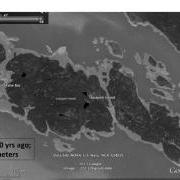 Click on images for full-resolution version
First Nations oral traditions from throughout the coast recount dramatic changes in sea level that almost certainly refer to these dramatic post-Ice Age changes in the land and sea. For example, the Sto:lo of the Fraser Valley have stories about some of the First Peoples taking refuge in caves or on mountainsides during times of rising water. The places on the landscape today that mark these refuges are about 200 m elevation – that is, just above the high sea level mark. We don't know when the earliest people settled on Lasqueti, but we do know that people made it to the southern tip of Chile by ~15,000 years ago, and the oldest sites found in BC so far (from Haida Gwaii and the Central Coast) date to ~12,500 years ago; older sites in BC are almost certainly now covered by the ocean.
After 12,500 years ago, the sea level around Lasqueti continued to bounce around until the crust finally settled down. That is, the island's shore was the same 12,500 years ago as it is today, but then sea level fell to a few meters below current levels and then rose a few meters above the current shore line until at least 5,700 years ago. As a result of this constant movement of the shoreline, finding really old sites on Lasqueti is going to be a challenge, since this rising and falling of sea levels could have easily obliterated lower early coastal sites (much like rising sea levels today will do to many coastal communities). We don't yet know what happened to sea level in the last 5000 years, but my recent work on Quadra suggests that sea level has been falling there for the least 1500 years. Whether this is true for Lasqueti remains to be seen.
If you want to know more about Lasqueti's sea level history, here's the reference to research that resulted from the geomorphologists' working here. It's a good article, but some people might find it to be a bit academic.
Hutchinson, I., James, T. S., Clague, J. J., Barrie, J. V. & Conway, K. W. 2004. Reconstruction of late Quaternary sea-level change in southwestern British Columbia from sediments in isolation basins. Boreas 33:183–194.
Archaeologist View of False Bay
An archaeologist's view of False Bay
by Dana Lepofsky
We now know enough about the archaeology of Lasqueti to say confidently that our island, like most Gulf Islands, once supported a large, permanent First Nation population. Based on a few ancient spear points found inland and on high ground, people first visited Lasqueti some 8000 years ago, when Lasqueti was first emerging from the receding post-glacial seas. The diverse types of projectile points found in people's gardens and on beaches tell us that subsequent use of the island was widespread. A variety of artifacts as well as archaeological sites further indicate that sometime after 2-3000 years ago, large permanent settlements as well as smaller short-term camps were established. Many of these sites were probably occupied until the first small pox epidemic spread throughout the Gulf of Georgia in the late 1780's when local First Nations populations were decimated.
There is little doubt the settlement in False Bay was one of the largest and most important of the ancient settlements on Lasqueti. Given the huge sheltered bay, the once rich intertidal and marine life, and access to fresh water, this should come as no surprise. Remnants of this once vibrant community are visible throughout the bay from the at least the Blue Roof around to Cocktail Cove and all the way to the Finnerty Islands. Modern houses, workshops and gas pumps have destroyed a large portion of the archaeological remains associated with this large community, but there are still enough remnants to give us a glimpse at this once flourishing settlement.
Walking along the shore of the bay, even where there has been considerable recent moving of rocks and earth, you'll notice shells and dark earth eroding from the land. While some are the remains of isolated meals of shellfish, the bulk of the shell is probably very old "construction fill". That is, the ancient Lasquetians used discarded shells to create flat surfaces on which to build their homes. As we all know, "The Rock" isn't known for either having flat or easily worked terrain. Basket load upon basket load of shell, however, provided a workable, well-drained platform on which large shed roof homes could be built.
The best example of these "house platforms" is on the spit located on the outside of Mud Bay, where it backs onto False Bay (at the end of Pemberton Road). If you go down to the water's edge, you'll see that the shell midden on land is a series of flat stepped surfaces. Each one of these large platforms – all created by ancient peoples, once held an ancient house.
I suspect that much of the False Bay midden used to be sculptured in the same way as that at Mud Bay. So, if you're imagining how False Bay looked in the past, picture the bay ringed by 1 – 3 rows of longhouses oriented parallel to the beach. Also, imagine a much denser settlement than today. Imagine canoes on the beach, smoke from the longhouses, and lots of people working and playing on the beach and on land.
Another indication that False Bay was important to many people is that it appears to have been well defended. Again, if you walk to the end of Pemberton Road, you'll notice not only the large shell midden below at the beach, but also a midden way above the beach on the point overlooking the bay. Based on the extent and location of this midden, I believe it's a lookout or a fortification/refuge site where people went during attacks. Such sites are not uncommon in this region. They are located on points of land with good visibility, have the remains of shell that people had to haul a considerable distance up hill, and are often associated with large, permanent settlements that are located in easier to access, but also more vulnerable locations.
An even more impressive fortification site associated with False Bay is one my daughter, Gavia, discovered this summer while we were camping on the Finnerty Islands. The site is located on a small island that is surrounded by about 30m high perpendicular rock faces. On top of the entire island, however, is relatively thick shell midden. The island has no drinking water, and only a very small beach that is exposed only at low tides. A small portion of the beach may have been cleared of its rocks to increase clam habitat, but in general, it's not an hospitable place to either collect clams or to live. What the island does have, however, is a superb view to the east to the Strait and to Vancouver Island, and a relatively calm and easy route to and from False Bay to the west. The thickness of the midden so high up on this island – thicker than I've seen at other fortification sites in this region – suggests that either many people used this site and/or it was used many times over a long period. Regardless, it indicates the importance of the False Bay settlement in the ancient past.
Finally, the extent of the ancient False Bay community is indicated by the extensive evidence of management and use of marine resources. The intensity of use is indicated, of course, by the huge amounts of shell and sea mammal and fish bone that make up the middens of False Bay. The clearing of beaches of rocks, presumably to increase clam productivity, is another indication. And, there is at least one large fish trap on the Finnerty Islands that is, like the defensive site, most likely associated with the ancient False Bay community. The trap is a complex design that incorporates both the natural configuration of the islets, the flow of water, and human-made walls and dams. At one time, there was considerable activity on the now deserted Finnerty Islands.
Beyond these tantalizing and general facts, we know few details about the lives lived in False Bay. A stunning jade (nephrite) chisel found in the bay indicates that at least some of the residents were probably wealthy and well connected to long-distance trade networks (the Fraser Valley). The usual array of projectile points, fish weights, and scrapers has also been found by the current False Bay residents. However, none of these have been found within the layers of an archaeological site, so these isolated artifacts can only tell us a limited story.
Some of the ancient stories of False Bay are still there for the telling. They're hidden in the undisturbed portions of middens that still remain on the bay. These layers of house floors, cooking hearths, and storage pits are the legacies of thousands of ancient people. However, given the current rate of development in False Bay, none of this rich, 8000 years of history will survive more than a few decades. Is that the kind of legacy the current residents of False Bay want to leave?
As always, I'd love to talk to any islanders about the ancient heritage of Lasqueti. Please contact me at dlepofsk [at] sfu [dot] ca or #8600.
Call Before You Dig.
"Call Before You Dig"
Archaeological texts claim that, with the pace of global development, in 50 years there
will be no undisturbed archaeological sites left. While I tell my introductory students
this, I never really believed it applied to us in British Columbia.
After spending the past two years in the Fraser Valley searching out known ancient
village sites, and observing how impacted even the most remote of them are, I realize that
this statistic is very much about our home.
Here on Lasqueti, where we are lucky to have an abundance of archaeological sites, our
heritage record is also threatened. I have seen a variety of sites across the island and
there are none that are not at least somewhat altered by past and current land use. Many
have been largely destroyed. This destruction is on-going at the same exponential rate
that is happening in the rest of B.C. and world-wide. We continue to build on
archaeological sites without trying to minimize the disturbance to the sites -- and some of
us even dig local sites to augment our personal collection of artifacts.
Archaeology sites are more than a collection of artifacts – they are a detailed history of
the lives lived in one spot. The spatial relationship of the artifacts to each other and to
the layers of sediment are an essential part of telling that story. Without these details, the
artifacts become little more than curios – isolated, incomprehensible fragments of a once
rich history.
I have some suggestions to encourage the preservation of the archaeological heritage on
Lasqueti:
1. If at all possible, avoid any disturbance to an archaeological site. If a project can be
moved or altered to avoid a site, do so. Perhaps we could train some community
members to recognize different kinds of archaeological sites and form a sort of
community archaeological team that could be called upon for advice.
2. In cases where disturbance to a site is unavoidable, it is important to salvage as much
information from the site as possible. Though it is more problematic, perhaps the
community archaeological team could be trained to do basic archaeological
excavation (including taking appropriate notes). Then, when people want to do a
building project on Lasqueti, they could call the archaeological team in before they
begin work.
3. Several people have asked me about conducting an archaeological excavation on
Lasqueti, for instance, in the context of my SFU Archaeology field school. I hope to
do this in the next few years—perhaps we could think about excavating parts of
already damaged sites or ones that will be disturbed in the future.
4. I encourage Islanders to call me to see your sites if you are planning to dig/develop in
them. If at all possible, I will try and come by and we can figure out a game plan to
minimize impact.
To me, a defining thing about being a Lasquetian is knowing that we are privileged to
live here and that it is our responsibility to look after this magical place. I am eager to
discuss with people about how we might best take care of our archaeological heritage.
Please call or email anytime.
Dana (333-8860, 604 929-6678, dlepofsk [at] sfu [dot] ca)
The Care and Tending of our Archaeological Heritage
The Care and Tending of Our Archaeological Heritage
Many people wanted to understand the relationship of native land claims to
archaeological sites on private property, and in particular whether you are liable to have
your land taken away in a claims settlement. In short, the answer is, "No". While First
Nations include both Crown land and private property in their claim areas, they only ask
that Crown land be given back to them; compensation (monetary or otherwise) is sought
in lieu of private land within the claim area. Thus, compensation might be requested by
First Nations for all the privately owned land on Lasqueti, but individual parcels, whether
they have archaeological sites on them or not, are highly unlikely to be singled out for
return to First Nations as part of a claim settlement. As I understand it, there are
currently five First Nations groups that include all or part of Lasqueti in their claim area.
People have also asked me about the legal and ethical aspects of disturbing an
archaeological site. The law is clear: disturbing a site, whether on private or public land,
whether knowingly or not, is against the law—and can result in substantial financial
penalties. However, the enforcement of the law is considerably less clear and in fact, no
one has ever been convicted under the Act. Most archaeologists would say the law is not
intended to apply to casual, minor, disturbance of sites, such as in the course of digging a
garden. It is, however, clearly intended to provide protection to sites being destroyed
during larger-scale development.
Archaeologists are working with policy makers to create legislation that clarifies the
intent of the law, but it's complicated. For instance, an Islander told me that a few years
back she was working with a company on Vancouver Island that was putting in a
swimming pool for an expensive home. In the course of excavating the pool they
uncovered twelve native burials. A quick decision was made–the one that is usually
made in such cases–to put the bodies in the flowerbeds at the edge of the pool and to keep
the whole thing quiet. What was the owner's responsibility in this case? Should s/he
have paid the money to for a professional to properly excavate those remains? To me,
the answer is a clear "Yes". But, what if it was someone on Lasqueti who discovered the
burials in the course of putting in a much needed orchard or developing a new garden?
Many people here could not pay for such archaeological work to be done. What is the
landowner's social responsibility in this case? From the perspective of an archaeologist,
if the landowner cannot afford a proper excavation of such a site, then they should try and
plan the garden or orchard in such a way as to avoid it.
Beyond the simple legalities of the issue, it is important that we understand why we
should protect our archaeological sites from destruction. Archaeological sites are
nonrenewable resources (despite the fact that the Liberal Government just moved the
Archaeology Branch to the Department of Renewable Resources!).
That is, they contain a detailed history of the past that, once disturbed, is gone forever. That
history is represented by the artifacts, bones, and shells that people find, but even more
importantly by their relationships to each other in layers in the ground.
The analogy that I like best is this: an archaeological site is like a book, where the
artifacts and layers are like the words on pages. If the words are ripped from the book
and scattered, they still might be beautiful words, but the story they once told is lost
forever. So too for artifacts that have been removed from a site without recording details
about their context. Was it found in a trash heap and possibly no longer functional? Was
it in a burial and possibly a family heirloom? Was it in a storage pit and intended for
future use? As many people saw that night at the school, for most artifacts, all I could tell
you was its function and roughly (within a thousand years or two) how old it was. The
rest of the story those artifacts could tell has been lost.
In the past few weeks I have been excited by how much of Lasqueti's archaeological
history is still left—and saddened by how much has been lost. Both older and more
recent logging has disturbed many sites, and roads have cut through sites. I have heard
stories of tourists coming to the island and taking artifacts away. I know of at least two
extensive collections of artifacts gathered by former Lasqueti residents that have now
been lost. Such things happen all the time. The question is, as a community, what can
we do to preserve the precious sites that have large portions still intact?
There are several things I think we could be doing. First, when planning on building a
house or garden in an area with an archaeological site, choose a location that will have
the least impact on the site. If you do find artifacts while building or gardening, then put
them in a bag in your house with as many details as possible about where they were
found (the depth below surface, which portion of which garden, whether there was
charcoal, shell, etc. with it). What you swear you won't forget now, I promise will
become blurred in several years unless you write it down—and it may be someone else,
not you, who is trying to recreate the context for those artifacts. The same applies to an
artifact you find on the beach. Most of these likely eroded out from a site on the shore,
and thus have lost much of their archaeological meaning, but it is still important to record
from where on the beach an artifact was collected. I guarantee, as archaeological sites
become rarer on the planet (like all non-renewable resources), this information will
become increasingly important. On Lasqueti, we have been granted the stewardship of
many resources that are in short supply elsewhere, a
Herring and Archaeology
Herring and Archaeology?
With so many environmental disasters facing us these days, sometimes it's hard to
know where to put our energy to try to "make things right". For me, I am sometimes
consumed by sadness about the world's loss of cultural and biological diversity. Because
I work closely with First Nations communities, often in remote places, I am daily faced
with how inter-twined and how significant these losses are.
In my current archaeological research, I am trying to actively blend my
commitment to the preservation of heritage with conservation of the natural world. In
particular, I am interested in incorporating archaeological evidence of resource use and
management with indigenous and local ecological knowledge, as a framework for
managing our resources today. These interests have recently converged in a study on
herring with Tla'amin First Nation, on the Sunshine Coast.
Herring, a once abundant and important component of our coastal ecosystems, is
severely threatened. In British Columbia, three of the five "management units' are now
closed to fishing. Most Tla'amin and other coastal First Nations say that herring runs are
too small to make it worthwhile to fish or collect spawn. They attribute this dramatic
decline to over-fishing by seine boats in the 1980's, when there were so many boats in
Tla'amin territory that "you could easily walk from boat to boat".
The past ecological and cultural importance of herring is echoed in the region's
archaeological records, which indicate that in places like the Georgia Strait and the west
coast of Vancouver Island it was herring – not the now more popular salmon – that was
the primary food species. For many indigenous people, herring undoubtedly classifies as
a "cultural keystone species", because of its fundamental cultural importance.
Photographs, interviews, and oral traditions demonstrate that for generations, tons of
herring roe and the fish themselves were gathered each spring and dried in abundance to
be used throughout the year. Such abundance is also reflected throughout the coast by
place names such as "Tee Sho Shum" for the main Reserve of the Tla'amin First Nation,
meaning, "Milky waters from herring spawn".
Importantly, these white waters were the ecological signal that it was time to fish.
Modern fishing practices involve harvesting pre-spawn fish at sea for roe which is
exported overseas as a delicacy. At best, the male fish and the gutted females are ground
into meal. In contrast, indigenous fishers gathered herring in the spring in bays after
spawning. And although the roe was also collected and consumed, it was a fraction of
the spawn that was deposited. At Tla'amin, community members are frustrated and
insulted by the insistence of government fisheries managers that there was no long-term,
sustained herring fishery in their bays. This flies in the face of local knowledge, place
names, and preliminary archaeological work conducted by our team– all of which point
to the long-term cultural importance of reliable and abundant herring stocks.
In our current research, we're bringing together fisheries ecologists, archaeologists
and Tla'amin researchers to systematically study the past abundance and diversity of
herring on the Sunshine Coast, and the long-term use and management of this important
resource. We're mapping herring fish traps, digging cores in archaeological sites to
determine past abundance of herring, and extracting DNA from these herring bones to
determine genetic diversity of herring over time and space. Given the dramatic reduction
of herring today, and the reluctance on the part of Dept. of Fisheries to seriously engage
in management which supports herring abundance and diversity, the only way to begin to
document the spatial and temporal variability of herring is by combining indigenous
knowledge and archaeological data. Our goal is to present these data to Provincial and
Tla'amin fisheries managers with the hopes of improving future management of this
ecologically and culturally foundational species. It's now or never. Now is good.
More on our archaeological heritage
More on our archaeological heritage
Since writing my last piece in the Isle and Times, I've had several conversations with Islanders about archaeology. Two kinds of questions arose in these discussions: People asked "If I bring attention to the archaeological site on my property, will it mean my land will get taken away in land claims?" and, "What can we, as a community do to preserve our archaeological heritage?" I'll address both of these here.
Land Claims and Archaeology
Many people across British Columbia are fearful that revealing archaeological sites on their property will result in their land being taken away. However, this fear is generally unfounded. First, it's important to understand that many of the sites in British Columbia, and certainly most of the sites on Lasqueti are already known both to government archaeologists and First Nations. This is especially true for those sites along the coast line. Recorded sites are listed in a Provincial data base with formal site numbers attached to them. Thus, you don't need to worry about "bringing attention" to your site, since it likely is already part of public knowledge.
However, even though the locations of sites are generally known, sites on private land play only a minor role in First Nations land claims. First Nations include both Crown land and private property in their claim areas, but only ask that Crown land be given back to them. Compensation (monetary or otherwise) is sought in lieu of private land within the claim area. There is no legal precedent supporting the return of private land in land claims.
Further, archaeology, more generally, has played only a minor role in land claims. There are two primary reasons for this. First, since it has already been established in the courts that First Nations have been in British Columbia since "time immemorial", archaeology isn't needed to show this. The second reason relates to how difficult it is to figure out "ethnicity" from the archaeological record. Although often asked, archaeologists can rarely determine "who lived here". That is, I can not tell from the style of a projectile point whether it was made by someone from what is now the Sechelt or Nanoose First Nations. There generally just isn't enough variation in artifacts across the region to determine "who".
To my knowledge, three First Nations claim Lasqueti within their "core area". They are the Tla'Amin (Sliammon), Nanoose, and Qualicum. The core claim areas of the Sechelt and the Comox just skirt around Lasqueti.
What can we do?
The first and most important step towards preserving our archaeological heritage is for us to decide that this is something that is important. Once we truly decide this, the rest is relatively easy.
As I wrote last time, the best thing is to avoid any impact to archaeological sites, but this may not always be possible. So, if you can't move your project to a different location, consider ways to minimize impact. For instance, instead of leveling a building site by digging, bring in fill and put it on top of the archaeological deposits. Then the archaeological deposits are covered and protected.
When destruction can't be avoided, have an archaeologist excavate at least some of the site that is going to be disturbed and destroyed. (Remember from our past discussions that we can only reconstruct the history of a site if the artifacts and features are observed in their original archaeological context.) While an archaeological excavation can normally be a somewhat expensive process, I am hoping to train a "community archaeological team" to do basic archaeological excavation and note-taking on a volunteer basis. Initially, at least, this should be under my direction. I am working towards getting the appropriate archaeology permits (required by law) to make this possible. I'll keep you updated on the progress of this.
In the meantime, if you have an interest in being part of our "Lasqueti archaeology team", or have any questions about archaeology, please contact me.
Dana (333-8600, 604 929-6678, dlepofsk [at] sfu [dot] ca)
Obsidian and Ancient Trade Relations
Obsidian (Volcanic Glass) and Ancient Trade Relations on Lasqueti
A while back I asked Lasquetians to share with me any ancient artifacts collected
from Lasqueti that were made of obsidian (volcanic glass). This is part of a larger study
on ancient trade relations that I am conducting on the Sunshine Coast. Four people
responded to my call. Two of the artifacts were probably not originally from Lasqueti
(i.e., they were collected on someone's holiday in Mexico), but ended up in people's
Lasqueti collection. The other two were in deed from Lasqueti archaeology sites. These
two, in combination with several artifacts from the Sunshine Coast, give us some insights
into ancient social relations within and between communities in this region.
Why study obsidian artifacts?
Archaeologists have two means for studying ancient social relations. The first is
by looking for similarities in the form of artifacts (projectile points, baskets, house
styles). This research is based on the assumption that shared styles indicate shared ideas
and thus communication. Another way to understand past social and economic relations
is to track down the origin of the raw materials used to make the artifacts recovered in
archaeological sites.
Obsidian, formed by the rapid cooling of volcanic magma, is ideally suited for
this second method. This is because the magma associated with each volcanic eruption is
composed of a distinct combination of minerals. Once "we" figure out the distinct
combination of each eruption and each volcano, it is possible to compare the make up of
the artifacts we find archaeologically to this information.
There are several reasons why obsidian is a good material for tracking social
relations. First, it is a highly valued raw material for artifacts because of its fine
crystalline structure. It's fine structure means both that it fractures predictably during
tool-making and it will produce a razor sharp edge. But, what ultimately makes obsidian
so well suited for tracking social relations is that this material is in short supply in most
parts of British Columbia. Thus, in order to get obsidian, people would have either 1.
lived close to the source, or 2. had social (kin?) or economic relations with the people
who did live close to the source.
Where do obsidian artifacts in the Sunshine Coast region come from?
Based on just 19 obsidian artifacts, we are beginning to get a picture of ancient
trade relations in this region in the last 2000 years or so. In general, obsidian in this
region comes from four sources. From north to south, these are 1. Kingcome Inlet in
central B.C, 2. Mt. Garibaldi in Squamish, 3. Whitewater Ridge, in central Oregon, and
4. Gregory Creek, just east of Whitewater Ridge, Oregon.
Both the Kingcome Inlet and Garibaldi obsidian are of only moderately good
quality. This is because they have some larger crystals in the rock that makes the
obsidian fracture less predictably during tool manufacture. Thus, all things being equal,
neither of these sources should have been preferred by ancient people. That is, unless
these sources were the only ones that were socially and/or economically available to
them. Today, the Kingcome source is well within the territory of Kwakwakwakw First
Nations, and Mt. Garibaldi is within Squamish First Nations territory.
What does all this tell us about social relations in the past?
In general, there are clear differences in the origin of the obsidian artifacts found
in this region. Obsidian from Lasqueti and sites south of Powell River on the Sunshine
Coast come from central Oregon and Mt. Garibaldi (Squamish). This suggests that the
people who lived on Lasqueti and nearby settlements were more closely affiliated with
folks further south than to the north. This pattern roughly fits with the social-linguistic
break between the Tla'amin and Sechelt First Nations today.
Moving northward, the pattern changes. At Powell River sites we have both
Garibaldi obsidian, but also the Kingcome Inlet source. Further north still, north of
Powell River and into Desolation Sound, there is a clear preference for Kingcome
obsidian. The relative abundance of Kingcome artifacts in the northern sites, and the mix
of Kingcome and Garibaldi sources in the Powell River sites, suggests that there is a shift
in trade (and kin?) connections somewhere around what is now Powell River. That is, it
seems that people living north of Powell River looked more northerly for their
social/economic relations, while the folks to the south of Powell River were more
connected to the people further south.
Of course, as we figure out the source of more obsidian artifacts found while
excavating, or in people's personal artifact collections, we will be able to fine-tune our
story. In particular, I am curious how this pattern changes over time. For instance, at
about 2000 years ago, large villages are established on Lasqueti and elsewhere in this
region, which undoubtedly changed how people interacted. Then, about 1000 years ago,
we start to see "defensive sites" on Lasqueti and elsewhere in the region. As we well
know from modern times, conflict can result in dramatically altered trade relations and
the same was undoubtedly true in the past.
As always, please contact me if you have any questions/ideas/comments about Lasqueti's
archaeological heritage. dlepofsk [at] sfu [dot] ca
Au Naturale
Lasqueti is quite sparsely populated and lies in a rare ecosystem type - the Coastal Douglas Fir zone. Our famous herds of feral sheep, along with the unique history of settlement have resulted in an ecology and natural environment with its own character.
Many, professional and ametuer, have taken a keen interest in Lasqueti's Ecology, it's Natural Environment, its Flora and Fauna, its Ecosystems - in short, its Natural History. But not much of this wealth of information has made it on the site yet - what has, you'll find here. If you have something to contribute in this regard, Contact us.
Invasive Plants
Not every plant sold in a nursery makes a good choice for your garden or landscape. Some non-native plants find wild success in Lasqueti's climate and soils - so much so that they can spread uncontrollably, pushing out more sensitive species. Many of the following are mentioned at www.bcinvasives.ca as being invasive plants in BC. If you know of others, contact Terry at 8501. I am slowing working on this project , so forgive the incomplete information.
Invasive Species
Common Name
Scientific Name
Description
Possible Alternatives
Photo
Bohemian Knotweed
Fallopia. x bohemica
Lush, bamboo-like with pretty feathery white flowers. 2-5m high. Among the most difficult plants to eradicate.

Joe Pye Weed (Eupatorium purpureum).

False Soloman's Seal (Maianthemum racemosum). Bugbane (Actaea ramosa and A. simplex).

Butterfly Bush
Buddleja davidii
Hardy deciduous semi-evergreen shrub 4-5m tall
Red-flowering Current (Ribes sangunieum). California Lilac (Ceanothus thyrsiflorus). Oceanspray (Holodiscus discolor).
Common Periwinkle
Vinca minor

Forms dense mats & invades wet areas. Vinca major is less problematic

.
Wild Ginger (Asarum caudatum). Piggyback Plant (Tolmeia menziesii). Christmas Box (Sarcococca hookeriana).
English Holly
Ilex aquifolium
Large bush or small tree - spread by birds. Casts deep shade that deprives native plants of light, nutrients & water.
Holly-leaf Osmanthus (Osmanthus heterophyllus). Tall Oregon Grape (Mahonia aquifolium). San Jose Holly (Ilex x aquipernyi).
English Ivy
Hedera hiburnica
Thick mats overwhelm plants on the forest floor and, smother trees.

Deer Fern (Blechnum spicant).

Salal (Gaultheria shallon). Barrenwort (Epimedium spp.).

Giant Hogweed
Heracleum mantegazzianum
Stout, bright green tsem spotted with dark red.Small white flower clusters. Grows more than 2m. high. Sap causes blistering & scarring.

Blue elderberry (Sambucus cerulea).

Wild celery (Angelica archangelica).

Giant Knotweed
Fallopia sachalenensis
Lush, bamboo-like with pretty feathery white flowers. 2-5m high. Among the most difficult plants to eradicate.

Joe Pye Weed (Eupatorium purpureum).

False Soloman's Seal (Maianthemum racemosum). Bugbane (Actaea ramosa and A. simplex).

Himalayan Blackberry
Rubus armeniacus
Himalayan
Knotweed
Polygonum polystachyum
Lush, bamboo-like with pretty feathery white flowers. 2-5m high. Among the most difficult plants to eradicate.

Joe Pye Weed (Eupatorium purpureum).

False Soloman's Seal (Maianthemum racemosum). Bugbane (Actaea ramosa and A. simplex).

Japanese Knotweed
Falliopa japonica
Lush, bamboo-like with pretty feathery white flowers. 2-5m high. Among the most difficult plants to eradicate.

Joe Pye Weed (Eupatorium purpureum).

False Soloman's Seal (Maianthemum racemosum). Bugbane (Actaea ramosa and A. simplex)

Policemen's Helmet
Impatiens glandulifera
Grows 1-2m high with a soft green or red-tinged stem.Pink flower. Crushed foliage has a musty smell.

Western columbine (Aquilegia formosa).

Fireweed (Epilobium angustifolium).

Red-osier dogwood (Cornus stolonifera).

Purple Loosestrife
Lythrum salicaria
Scotch Broom
Cytisus scoparius
Spanish Broom
Sweet Cicely
Myrrhis odorata

Edible herb with anise flavour / smell.

Very hard to eradicate - deep roots re-grow from small fragments.

(see Wikipedia entry...)

Spurge Laurel (or daphne laurel, laurel-leaved daphne, olive-spurge, wood laurel, copse laurel)
Daphne laureola

European flowering shrub.

Spread rapidly by seed and root sucker.

Poisonous and gloves must be worn when hand pulling to protect against the caustic sap.

(see Wikipedia entry... )

Yellow Archangel/Lamium
Lamium galeobdolon
Yellow Flag Iris
Iris pseudacorus
Lasqueti Butterflies
This site is for butterflies that have been seen and identified on Lasqueti Island.Over several years I have sent photos or butterflies I've found dead to Cris Guppy, the author of Butterflies of British Columbia, for positive ID and for his record keeping. Many thanks to Cris for his help and encouragement.
The information and photos are intended to help anyone who wants to get to know these local residents better and to appreciate their grace and beauty. They have truly marvelous lives and life cycles.
If there is no photo credit, I took the picture on Lasqueti. Otherwise, the photographers are credited, and the photos are used with permission.
BUTTERFLY CONSERVATION: The biggest threat to butterflies is habitat loss: to urban development (pavement, manicured lawns), intensive agriculture, logging (for a few species), and overgrazing by cattle and sheep. On Lasqueti we can encourage and preserve natural areas -- especially forests, sheltered forest glades, wet places and streams, brushy areas, and patches of nettles, willow, and alder, which are the host plants for many local butterfly species.
It is also important to avoid completely the use of herbicides and pesticides, including and especially Bt, which is widely sold as a mild way to control some pests but which is deadly to the larvae of all butterflies and moths.
If you do want to plant a butterfly garden, be sure the seeds you are sowing are for the butterflies that are or could be here. Most seed mixes sold for this purpose are primarily for the butterflies in other geographic areas. I have found that a general mix of flowering herbs, shrubs, annuals, and perennials seems to attract a lot. Host plants for the larvae are at least as important for species survival as nectar-producing flowers. Butterfly gardens are more for our pleasure at seeing the adults (I have seen 25 Painted Ladies at once on Lasqueti, in a large planting of lavender.).
Raising purchased butterfly larvae, or releasing butterflies at a wedding or other event, is not a good idea, as it puts non-native butterflies, or non-resident populations, into an area -- the same as Atlantic salmon escaping from fish farms into Pacific waters.
Moths and butterflies are categories of the insect order Lepidoptera, which comprises possibly a million species. Generally, butterfly antennae are thread-like, with a small club at the end. Moth antennae usually lack clubs and resemble either threads or feathers.
NO ROYALTY ON LASQUETI! People will sometimes refer to the "Monarchs" on Lasqueti, mistaking the two species of Swallowtail butterflies that are here for the famous and widely pictured Monarch butterfly. Swallowtails are white or yellow with broad black tiger stripes. Monarchs are orange, with thin black lines in a stained-glass pattern, not stripes. While it would be lovely to see these master-migrators on Lasqueti, they have only rarely been recorded anywhere on the coast. Their primary range is to the east or the south of us.
WATCHING BUTTERFLIES: Mostly, to watch butterflies, you just have to go to a likely habitat, in season, after the day's sun has warmed things a bit, and sit and be patient. You will notice many as you walk on the roads or woodland edges or in fields, or as you garden. A pair of close-focus binoculars is a wonderful tool for butterfly-watching. A few years ago these were out-of-reach expensive, but they are now being made for the popular market. If you are shopping for binoculars, be sure to check the focus range. If the smaller number is 2 metres or less, you're OK for butterflies.
I have seen butterflies in the usual haunts in and out of the garden, and also crossing bays and between islands. Since they sip water and minerals from various places, they may also be on beaches and tideflats, on piles of old seaweed, and on mud and animal dung. (Note: A greenhouse with the doors open can be a great butterfly-catcher, but if your greenhouse is trapping them, it is essential to check a couple of times a day and catch and free them. Gentle handling is fine, just be sure not to squeeze the body. We were catching so many, and not always finding them in time, that we now net the doorways.)
The more you observe, the more you'll see: courtship, mating, egg-laying, larvae, and pupae, as well as the beauty of the adults. If you notice an adult flying around host plants, some time spent watching could reward you with the sight of egg-laying, and then you will know exactly where to look later for larvae and pupae.
To learn more, in addition to watching, take a look at these books and websites:
Butterflies of British Columbia by Crispin Guppy and Jon Shepard. UBC Press, 2001. A big, definitive book.
The Butterflies of Cascadia, by Robert Michael Pyle. Seattle Audubon Society, 2002. A useful field guide to the butterflies of Washington, Oregon, and southern BC. Great photos, lively writing.
http://efauna.bc.ca Photos and extensive information about all types of animals in BC. Complete and easy to use. (There is a comparable eflora site for BC plants.)
www.butterfliesandmoths.org One of those US sites that define "North America" as stopping at the 49th parallel, but there are no butterflies in southern BC that do not also occur in northern Washington. Good photos.
Zero Mile Diet
Food self-sufficiency -- Eating well out of your Garden -- Tips on Local Gardening
A series of articles on year-round eating from the garden, by Sue Wheeler
These articles, arranged by month, are intended to pass on information to help us become more food self-sufficient by eating well out of the garden all year round. I will include tips I've picked up from my own and friends' experience, plus information I've run across that I haven't seen elsewhere. I don't plan to include info that is widely available in garden books and articles, such as how to grow squash or potatoes or other crops that are harvested in Fall and stored.
"Winter gardening" is really spring and summer planting for winter eating. It requires planning to be sure there is a place in the garden for the overwintering crops to go in at the right time. For example, when you plan where you'll plant carrots, allow space for spring planting of the summer carrots and also summer planting of the carrots that will be left in the ground and harvested through the winter and into spring. A bed that had the earliest peas and lettuces will be finished in time for the overwintered cabbages, broccoli, and cauliflower. I reserve a spot from the beginning of the season for kale and chard, which need to be seeded in the garden before any of the early crops are finished.
A good source of information is Linda Gilkeson's articles about winter gardening on the coast, which can be found at
http://www.saltspringenergystrategy.org/food.htm
Linda also has an excellent book, Year-Around Harvest, which can be ordered from West Coast Seeds, Salt Spring Seeds, at local bookstores, or through her website, www.lindagilkeson.ca 
Another recommended book is Eliot Coleman's Four-Season Harvest, available at the regional library (www.virl.bc.ca)
Here is a table of what to plant when on Lasqueti (adapted from Linda Gilkeson's "Salt Spring Planting Dates" in her book Year Round Harvest)





WHEN




WHAT TO PLANT




Feb. or March




Leeks

April-May

Celeriac, parsley, leeks, chard

Early June

Brussels sprouts, carrots

Mid- to late June

Purple sprouting broccoli, winter & over-wintering cabbage, parsnips, beets

Early July

Rutabagas, endive & radicchio, kale, kohlrabi, overtintered cauliflower

Late July-early August

Arugula, fall & winter lettuce, mizuna and other Asian greens, collards, kale, daikon and winter radishes, spinach, corn salad, basil (for transplanting to pots for a windowsill indoors in early fall)

Early August

Late August to mid-September

Over-wintered onions

Corn salad, cilantro, arugula, winter lettuce




early October




Lettuce and spinach in greenhouse
April 2009
This week's article from Linda Gilkeson's email list is about hardening off seedlings. You can get on this list by emailing Linda at info [at] lindagilkeson [dot] ca. She lives on Salt Spring, so her tips are directly useful for us. You can read all her past articles at the link she cites below.
Quoting Linda:
How you harden off tender seedlings can have a long term effect on the crop. Hardening off is the process of reducing the growth rate of seedlings by exposing them to cooler conditions and less water and fertilizer. As their growth is checked, plants accumulate food reserves, which they can use to produce new roots faster when they are transplanted. Hardening off also thickens the cuticle and wax layers on leaves, which helps plants to withstand wind and weather and protects leaves from sunburn.
Some plants can be hardened off to withstand frost, including the cabbage family, lettuce, most greens and onions. If transplants plants are too large, however, exposure to temperatures under 5-10oC for more than a couple of weeks can make some of them send up seedstalks.
The tricky thing is that there is a disadvantage to over-hardening plants. Such plant are slow to begin growth and may never really recover, resulting in lower yields and later maturing crops. Transplants suffering from uneven watering, from being rootbound or chilled become over-hardened. Plants for sale have usually been hardened off by the time they reach the market so they become over-hardened if they hang around too long before they are set out. [Find out when your local nursery brings in new stock, buy your transplants the day they arrive and plant them out immediately or else pot them on]. Home grown seedlings that were started too early suffer the same fate if they end up being held too long in small pots.
Hardening off is least helpful for tender plants, such as tomatoes, peppers, cucumber, melons, squash, and celery. Ideally, you want to time the seeding date for these so that transplants reach the right size to go into the garden just as the weather becomes warm and stable (good luck with that!). Such tender plants are better off being started later rather than earlier so they don't experience a check in their growth. In any case, if seedlings are becoming rootbound and the weather still isn't warm enough to put them out, they should be potted in larger containers and kept in.
Hardening off for tender crops mainly means getting them used to direct sunshine. Tender plants that have been started under glass can be seriously damaged or even die from sunburn if suddenly moved outdoors (really!). Sunburn damage on cucumbers and squash (the most susceptible group) appears as light tan spots and blotches on leaves and stems.
What to do: Gently harden off transplants you have grown by gradually exposing them to direct sun and outdoor conditions. Starting with an hour or so the first day, set them out for a longer period each day, taking about a week to get them used to a whole day outdoors. Move them indoors if nights are cooler than normal. Once they are set out, keep sheets of plastic, floating row cover, cloches or other covers handy to protect transplants from an late cool spell.
May 2009
WHAT TO PLANT THIS MONTH: It's not too late to plant leeks, for harvest through the winter and into next May. Parsley planted now will last over the winter in the garden, barring three weeks under heavy snow (and even then it did come back from the roots) And it's not too late to start celeriac indoors, for transplanting into the garden when it's truly warm later in the month. It will last through next April.
First week of July
This week: last chance to plant beets, carrots, and rutabagas for late fall/winter harvest. If it's hot, a cover of burlap or newspaper will help keep the seedbed moist until the seeds sprout (Remove this as soon as they have sprouted).
This is also the time to plant seeds for overwintered cauliflower, to be harvested next spring. If you didn't get seeds for this crop this year, make a mental note to get them when you order seeds next winter. It's the sweetest cauliflower you will ever taste, and great to have at that time of year.

Look for and prepare a place where you will be able to sow hardy greens in a couple of weeks-- chard, kale, arugula, spinach, Chinese cabbage and other Asian greens.
Early August
The arrival of August shift us into the next phase of planting for winter eating. August 1st is the halfway point between Summer Solstice and Fall Equinox-- Lammas, in the Celtic and old British calendars, a harvest festival in which bread baked from the first wheat harvest of the year was blessed. Bread blessings sound good to me! The shortening of the days means that seed can be sown for overwintered onions (Onions are sensitive to day-length and might bolt to seed too early if planted sooner). Walla Walla is the main variety grown in this area-- a large, delicious onion that will be ready for harvest around July 1st next year (OK, it's not exactly winter eating, but it does fill the gap left by the last of the stored onions, before next year's crop will be ready). Seed a few rows in any spot in the garden, cover with a little protection against the worst winter weather, then transplant next spring into that year's onion area.
You can sow all the Asian greens now for fall harvest, plus fall and winter lettuces, arugula, kale, winter radishes, spinach, scallions and corn salad. Corn salad, also known as mache ("mosh"), is especially hardy, and works well as a cover crop as other things get harvested.
Tips for seedling survival in hot weather: If your soil dries especially quickly, so that daily watering is not enough to germinate seeds, try covering the seeded area with cloth or a couple of layers of newspaper. Check each day and remove as soon as the seeds have sprouted. After this, to shelter the babies from too much sun, I've been using upturned bedding plant trays, those lattice-work black or grey plastic trays that a dozen or so small pots come in from nurseries. They let in about 50% of the light. They turn up at the Free Store, or maybe a neighbour has a few spares, if you don't have any. Shade cloth would work, too.
Early September-October
The best time to plant for fall and winter eating may have just passed, but if you haven't been able to do it yet I'd suggest going out there right now and sowing some lettuce, arugula, spinach and corn salad, especially if you have room in the greenhouse or a cold frame or any other place you could shelter after the weather turns. It is probably not too late to plant cilantro, which is surprisingly hardy-- one Lasqueti gardener had hers survive outside last winter, with no protection, through all that snow and cold. If you can get transplants from a neighbour, or find plants for kale, Asian greens, or lettuce at a nursery, that would put you a couple of weeks ahead of direct seeding.
Through early October you can sow lettuce, spinach, arugula, and Asian greens, under a cold frame or in a greenhouse, that will germinate and stay small through the winter and begin to grow quickly when the days lengthen in February, giving you salads in the early spring, before you need the greenhouse for tomatoes etc. Whatever you do, be sure to get cover crops on the bare patches in the garden as they appear after harvest. If you are able to do only one thing for your next year's garden, this is the best. Make a note of the fall and winter crops you wish you'd gotten seed for this year, for next year's seed ordering. The whole schedule of what to plant when is on the main page of the Zero Mile Diet site.
Climate Change
Lasqueti Climate Change Vulnerability Assessment and Adaptation Plan.
Last summer I organized a group of 15 Lasqueti community members to help me think through the following questions:
How are the impacts of climate change going to affect us here on Lasqueti?
And what can we do to prepare for them?
With the reflections and ideas that came out of that focus group meeting I created a document called the "Lasqueti Climate Change Vulnerability Assessment and Adaptation Plan". It was submitted as my honours thesis as part of my bachelors degree in Environmental Studies at McGill. Below is just an excerpt of my 53 page thesis. Contact me if you would like to read the whole darn thing.
I have posted the most interesting and relevant parts of the thesis on this page. Check it out if you are interested. Below is just an excerpt of my 53 page thesis. Contact me if you would like to read the whole darn thing. And if anyone is interested in beginning to implement some of these adaptation strategies that the group came up with, let me know and I'd be happy to try and help coordinate efforts.
Thanks again to those 15 excellent focus group members who helped me with this research!
Jen Gobby
jengobby [at] hotmail [dot] com 514-546-3924
1) Lasqueti Climate Change Vulnerability/Resilience Assessment
The process we used to conduct the vulnerability assessment and adaptation plan involved five steps that are outlined as follows:
1) EFFECTS: What are the expected climate change effects of most concern locally?
2) IMPACTS: How do we expect these effects to impact Lasqueti and Lasquetians?
3) RESILIENCIES: In what ways are we resilient to the coming changes?
4) VULNERABILITIES: In what ways are we vulnerable to the coming changes?
5) ADAPTATION STRATEGIES: What can we do to prepare?
­­­­­­­­­­­­­­­­­­­­­­­­­­­­­­­­­­­­­­­­­­­­­­­­­­­­­­­­­­­­­­­­­­­
1.1 Effects -What are the expected climate change effects of most concern locally?
A study completed by the Capital Regional District describes the impacts projected for southern areas of coastal British Columbia within the century, including:
An increase of 6-7 mm in precipitation during December and January
An increase of 10-20% in average annual precipitation
Continued sea level rise (over the past century, BC has experienced a 4-12 cm rise)
An increase in average air temperatures of up to 3º C in summer and 5º C in winter
More extreme weather events (e.g. summer droughts, heavy rains, winter storms)
The following, in order of most mentioned to least mentioned, are the climate change effects of most concern to Lasqueti focus group members: a) Changes in precipitation, b) Increased storm activity, c) Various effects together creating problems for Food Security and d) Sea Level rise. For each of these, the focus group discussed how these effects may manifest in the Lasqueti socio-ecosystem.
­­­­­­­­­­­­­­­
1.2 IMPACTS: How do we expect these effects to impact Lasqueti and Lasquetians?
Precipitation
Wetter winters and drier summers are predicted for the Lasqueti region. The focus group envisioned the expected changes in precipitation as impacting the island in various ways. There was much concern expressed about reduced access to drinking water, irrigation for crops and drought conditions increasing the risk of forest fires and there being a lack of water with which to put out fires. There has already been drought problems in the summer months in recent years. Many people already live with limited water resources for much of the summer. Their water supply generally depends on their storage abilities. Some properties are endowed with large ponds or lakes, others store water in cisterns or construct ponds.
Fire is already a real threat to locals. The main form of household heating is wood fire in wood stoves. There have been a number of house fires in the last 10 years. The risk of house fires spreading to surrounding forests is very real as many houses are built in close proximity to trees and forest. The combination of existing water constraints and existing fire risk situates Lasqueti as vulnerable to the changes in precipitation that are predicted to be brought on by climate change.
More rain in the winter and less in the summer will also impact local people in that water is required for growing food. This will contribute to increased stresses on food security. There was also concern expressed that water being scarce (and this leading to food scarcity) will induce conflict among people. There was fear of impacts on wildlife and forests as drought conditions persist. There has already been evidence of cedar trees dying off in the last decade or so due to drier conditions. It was suggested by one participant that compromised health of ecosystems can also make them more vulnerable to invasive species and pest invasions.
Increased Storm Activity
During our impact envisioning, focus group participants expressed concern about increased storms. There were three main ways people anticipated storms impacting their lives: ferry cancelations, communication system breakdowns, and damage to houses and systems.
Already in the last two years, there have been more ferry cancelations due to storms than in the past (personal communication with ferry captain). Increased ferry cancelations can reduce access to off-island employment and more difficult access to food and other staple items. But of most concern to the focus group was the reduced access to health care services that could be caused by more common cancelation of ferry runs. Lasquetians need to travel to Vancouver Island in order to see doctors, dentists, obstetricians, midwives and other specialists. This travel is also required to get prescription medication from the pharmacy and to get their children vaccinated. All this hinges on the ferry's ability to make the crossing. Clearly increased ferry cancelations will make it harder for residents to access routine health care.
More storm activity will also impact the access to emergency health care as the coast guard (which is called in by the first responders if deemed necessary) cannot make the crossing in large storms. And helicopters, which are called in when the coast guard is unable to come, are only able to land on Lasqueti in daylight hours.
The focus group members also expressed concern that increased storm activity can also lead to damage to houses and cars. It is not uncommon for trees to fall in wind storms and there has already been an increase in house and car damage from falling trees.
Perhaps of most concern to the focus group is that storms can cause breakdown in communication systems. The landline phone system relies on the diesel generator at the elementary school running. The phone wires themselves, buried in shallow ground around the island are already prone to breakdown by various causes, including storms. The island's broadband internet service is also vulnerable to disruption as its reception towers are on bluff tops and each has its own alternative energy systems that can be damaged by intense wind and rain storm. The worry is not only the economic impacts of damaged infrastructure and hindrances to telecommuting to work, but more that people will not be able to call for help in cases of emergencies. People live far apart, and commonly out of shouting distance from the closest neighbor. The focus group identified this as an impact of great concern.
There was also the concern that emergency situations could generate increased involvement in island affairs by government or other "outside powers". However, other participants suggested that it was more likely that being so remote and with such a small population, we would unlikely receive any help or resources from the 'other side', whether wanted or not.
Various effects together creating problems for Food Security
The focus group had strong concerns about combined effects of temperature increase, changes in precipitation, increased pests and invasive species making it more difficult for islanders to grow food crops. With rising food and transportation costs on Vancouver Island and increased storm activity making it harder to go shopping off island, there is more reason than ever to grow food on Lasqueti. There is already a vibrant community of farmers and gardeners. However, most crops grow in the summer season and so reduced rainfall in the summer season may constrain the ability to maintain or expand local food growing. It was also mentioned that increased rainfall in the winter can have detrimental impacts on plants as too much soil saturation of water can make plants rot and die. Temperature changes are expected to increase the likelihood of pests that can harm crops. Temperature changes can also change the types of crops that can be grown on Lasqueti. Focus group participants expressed fear that crops that they have been growing successfully may not be able to grow in hotter, drier conditions.
The concern was expressed that increasing storage capacity of rainwater catchment may help but that more ponds means more forest clearing which has implications for mitigation of greenhouse gas emissions. It was noted that increased clearing of land for food production has this problem as well. Another issue raised about food security was that many of the large farms are very close to sea level. Increased storm activity causing coastal erosion and rising sea levels may cause salinization of the water table. Both of these could contribute to threats of food security on Lasqueti Island.
Sea Level Rise
The participants of the focus group identified several local impacts from predicted sea level rise. Many houses are close to the hightide line currently. A rising high tide combined with increased storms eroding Lasqueti's coastlines clearly pose a threat to property value and homes. Some people may have to rebuild and are concerned about the financial impacts of this. Locals are also worried about increased costs of insurance due to all these impacts. Another concerns is of rising sea level causing salinization of ground water and aquifers compounding the problems of food and water security associated with other climate change effects.
Yet another expected impact is that the cost of living will go up as governments divest responsibility for wharfs. This is already happening and it will be a considerable expense to islands to take responsibility for their own wharfs. This will be a bigger and more costly responsibility with rising sea levels and increased storms requiring more repair and maintaining of the wharfs.
One participant expressed concern about sea level rise, changes in ocean temperature and other ocean effects having impacts on the health and populations of forage fish and the rest of the coastal ecosystems on which the community is dependent.
Other impacts
Other impacts that we envisioned include possible economic uncertainty because of national and international instability and economic collapses due to climate change and other global problems. One man spoke of the social impact of fear and of how living in fear of climate change could pose a threat to social and psychological well-being in the community. Related to this is the concern about scarcity of food and water leading to increased conflict in the island. With no police presence on the island, conflict could lead to real stresses on the island's informal governance structures and even pose threats to personal safety.
On a more positive note, one woman spoke of the coming effects of climate change being an opportunity for the community to deepen its response to change and for individuals to enhance their capacity for uncertainty. She spoke of the coming challenges as a way to help foster more collaboration and inter-reliance among Lasqueti islanders.
1.3 RESILIENCIES: In what ways are we resilient to the coming changes?
Having discussed the potential impacts of climate change on the Lasqueti socio-ecosystems, we next reflected on the local resiliencies and vulnerabilities that already exist there. A roundtable discussion ensued and below are some of the resiliencies identified.
Lack of easy access to grocery stores means that Lasquetians tend to have large amounts of food stored up. People buy grains and other food stuffs in bulk quantities to last them between 'trips over to the other side'. As well much of the annual harvest of local crops happens in the late summer/fall and people dry, can, smoke or otherwise preserve the food they've grown in the summer in order to last them through to spring. Most islanders have a pantry full of nuts and seeds and canned jams, tomatoes, pickles, dried fruit, smoked fish and canned meat. Less dependent on commercial food products makes the locals feel better prepared for hard times of reduced access to groceries.
Another point of resilience identified is that as a rural people, they are used to living close to nature, of dealing with the "elements and storms and way of nature". Similarly, they are on the most part used to living with less, to living without excess, and to being used to an irregular supply of things. One person noted proudly that "We wouldn't be shaken up if we can't get the newest iphone as folks on the other side would be".
Efforts in the western world to prepare for climate change often focus on setting up rainwater catchment and renewable power systems and local food initiatives. Several participants commented on the resilience of the water and power systems on the island. Being off the grid means that there are no island wide power outages. Not only are the power and water system renewable and independent, they are individual. If one person's power system ceases working this has no effect on other residents.
One participant commented: "It relates directly to the concept of resilience. Our systems are independent. It's not just the skills and everything, it's that they're independent. It's not that we have all solar. If we had one centralized solar, that wouldn't make us resilient. It's the fact that we all have separate systems. If my panels get smashed by a tree I just paddle over to Peter's place and have a cup of tea there. The systems are independent which means they fail gracefully. It would have to be something really big to knock out all the power on the island. Somewhere there'd be power. In Victoria, there's a big storm and boom. The main line to Vancouver Island, if that's cut, that's it. It's a scale issue. It's not just local, it's individual."
Lasquetians are used to getting buy with less energy and adjusting to different flows of power which makes them less 'upset' by changes in availability of goods and services. Further, because each household in fully responsible to set up and maintain their systems, most people know how to fix broken systems. This systemic independence renders them less vulnerable than people who need to call an electrician or plumber every time something breaks. This Lasquetian characteristic has wider implications in terms of general know-how. The average islander is highly skilled. She can grow food, build a house, install a solar panel, fix a leak in the water pipe, etc. As well most people have developed an amazing ability to be resourceful. As one man pointed out "People are willing to do anything, whatever needs to be done…we don't wait for others to do things for them".
Aside from the resiliency gained from existing infrastructure and skills, many participants brought up the community cohesion and impressive social capital as assets to the community's ability to adapt. They noted a good flow of information among people, and the willingness to share skills, knowledge, tools, and resources. One woman commented on this:"I think we can easily ask each other questions and answer them...that sort of the thing. We have the teachers. If you have a question you can call them up and say hey how does this go? And they will help you. Or point you in the direction of someone who can help you."
A small close knit population mean that in general, people all know each other. And there is a mutual support network whereby no one who may need help is likely to fall through the cracks. "We all know who our neighbours are, whether we like them or not. And when things are tough we check on each other and so on. Nobody's going to be left out."
One woman talked of the 'practice of caring for each other' and we talked about the informal insurance system that seems to exist on the island. When someone is having hard times, they will be helped, be in an illness, old age or a house fire. The community comes together to provide for community members in need.
The group noted that due to the physical labour required and other aspects of the rural life, local are generally in good health and have impressive physical strength and stamina. Another aspect of Lasqueti life that fosters resilience and adaptive capacity is the fact it is less regulated by local and regional laws and bylaws. Several residents mentioned that this lack of regulation and bylaw enforcement means they can work on making adaptive changes that could, in other locals, be restricted by land-use and other bylaws.
1.4 Vulnerabilities: In what ways are we vulnerable to the coming changes?
Of primary concern to the group is the current communications systems. The phone and internet systems are both already prone to breakdown. Phone system depends on the generator at the school to be functioning, which in turn depends on a steady supply of diesel. This relates to another point of vulnerability identified: the monopoly on fuel. There is only one fuel pump on the entire island.. The gas pumps are only open a few days a week and at select hours. The fuel is significantly more expensive on Lasqueti than it is on Vancouver Island, and is generally bad quality (often has water content that can cause some damage to vehicles). Further, there are fairly regular episodes when no fuel is available at all.
Related to this, several focus group members cited isolation as a major vulnerability. One member admitted: "I think we're vulnerable transportation wise. If there's anybody who is sick it's hard to get them off island. And if our transportation gets affected by climate change it'll be even harder." Relying on the ferry as the sole way to leave or return to the island also constitutes a vulnerability in the minds of the focus group. It makes it harder to access the things people need. It contributes to food insecurity and can exacerbate health issues.
Another issue is that having such a small and remote population means fewer government services are provided. Generally Lasquetians view this lack of involvement from the government as a good thing, but the group felt it makes them vulnerable because "we're off the radar in terms of emergency response and such". One participant expressed this in economic terms. "Our imports greatly exceed our exports. We rely heavily on the other side, yet we're economically inconsequential to the other side. So we'd be last on the list of places to send help to. We are at the end of the supply chain."
Another aspect of this vulnerability is garbage and waste disposal. The isolation of the island means it is difficult to get rid of waste. This is likely contributing to toxicity in the local environment. For example, dead batteries discarded in the forest leach battery acid into the watershed. This could affect access to clean water. It is likely having deleterious effects on other ecosystems and wildlife on island.
Interestingly, the independent and do-it-yourself spirit celebrated as a strong source of resilience in the previous conversation also came up as a vulnerability. One participant talked of this independent spirit as being "anarchist libertarian". And expressed how it "can make it hard for people to work together. Especially with any intervention that is seen to be coming from above – the government or the other side. It's the 'don't tell me what to do' thing." The group talked about this as hindering collaboration with off island people and institutions but also hindering collaboration between Lasquetians. Similarly, the strong sense of local identity and separateness foster a notion that the problems of the world stay over there. Several participants pointed this out as a vulnerability since it can nurture apathy and denial about global issues.
There were several people who mentioned food related vulnerabilities. One mentioned that being a community of gardeners and farmers increased vulnerability to new pests and diseases and other ways that climate change is predicted to create problems for agriculture. Another spoke of being concerned that the clear island delineation determines a fixed carrying capacity in terms of how many people it can support by way of food and water. One focus group member provided an estimate that only 8-10% of Lasqueti is arable and that we are probably at or very near carrying capacity at current population. Despite the ample local food growing efforts, residents still rely heavily for much of their food and agricultural inputs on imports from Vancouver Island.
Several folks talked about health related vulnerabilities. One pointed out that many local choose to not vaccinate their children and that this increases risk of spreading disease. Another person commented that "we're vulnerable to spreading of disease between us…because of kissing and hugging all the time." The aging population poses problems; greater service and care needs and fewer people able to provide them.
Some other points of vulnerability identified are structures of land ownership and land prices restricting the kind of people that could come here. This has led to an influx of people who can afford to buy land at the current prices and this is mostly older, retired people many of whom are buying property as a summer get-away and this is seen as weakening the community.
Lastly, one participant expressed concern that False Bay, (the cove where the ferry docks and where the restaurant/bar and store are located) is vulnerable in terms of defense.
2 ADAPTATION STRATEGIES: What can we do to prepare?
To identify climate change adaptation strategies, the focus group divided into four 'sector' groups. The sector groups are a) Wildlife and Wilderness, b) Water, c) Food Security, d) Social and Infrastructure. The group spent several hours in these sector groups brainstorming and strategizing. When this was done, we reconvened and reported back and further discusses the strategies. The final product of this brainstorming is the following:
2.1 The Strategies
a) Wilderness and Wildlife group:
The main concern of this sector group is that "the health of our ecosystems is vital to the health of our communities and to our ability to adapt, yet there are development pressures as well as climate-related threats to our forests and coastal region." In order to offset the development pressures and their adverse effect on ecological and social systems, this group chose to focus on the following five adaptation strategies: conservation, education, proactive forest adaptive management, planting orchards, the consumption of invasive species.
The sector group envisioned this conservation strategy to reduce development pressure and its impact on local wilderness and wildlife though legally conserving threatened or sensitive parcels of land through covenants or through actual purchasing of the land. Conservation is defined here as maintaining and promoting growth of natural ecosystems. The protection of forest cover keeps water in the soil and is habitat for wildlife. There is a lot of crown land that is vulnerable to development that could be conserved to help protect water sheds (contributing to the adaptation strategies regarding water). Increasing and maintaining vegetation is not only an adaptation strategy, it is also mitigative in that it helps store carbon. The best agricultural land is also the best forest land, and as such there is some tension between conflicting priorities here: encouraging local food production and conserving forest ecosystems. This tension however may be resolved by strategic use of existing cleared arable land (more on this later).
There are some draw backs of this conservation strategy that were pointed out: land purchasing is expensive. This strategy could drive up land prices thus potentially exacerbating demographic issues discussed earlier. One benefit of this strategy is that the conservation branch of the Island Trust (Trust Fund) has in place several conservation programs and covenant mechanisms. Another is that it is already being promoted by the local association Lasqueti Island Nature Conservancy (LINK). Collaborative efforts with the Trust Fund and LINK can make this strategy come to fruition easily, possibly compensating for the drawback of the high cost aspect of conservation as an adaptation strategy for Lasqueti.
Planting orchards is another strategy. The idea is to plant fruit bearing trees in already cleared areas. Orchards attract and provide habitat for birds and other wildlife. Orchards could maintaining tree cover and sequester carbon while providing food for people and wildlife. Related to this is another strategy presented. It is an active approach to managing forests called proactive forest adaptive management. It was proposed that we can help our forests adapt to changing climatic conditions, by planting species that currently grow south of here (like genotypes from Mount Washington are). This is based on the prediction that ecosystems will migrate north as temperatures increase and precipitation patterns change. These two strategies could work together. The focus group has proposed that we plant fruit and nut bearing trees on public and private lands that are in need of restoration. They suggest that it would be wise to plant both varieties that we know grow well in current Lasqueti climatic conditions and varieties that grow well in the ecosystems that are expected to migrate to Lasqueti in the coming decades. By doing this we increase food security, restore wildlife habitat, sequester carbon and proactively help forests adapt to changing conditions.
Another strategy proposed by this Wilderness and Wildlife sector group addresses the problems posed to ecosystems by invasive species. This is already happening and is predicted to be made worse by changes in climate. The strategy is to encourage the invasive species as local food sources. This is not as weird as it seems at first glance. Some of the most prolific invasive species on Lasqueti are feral sheep and bullfrogs. The feral sheep which forage through Lasqueti's forests and clearings impose extensive damage to the understory of the forest. Bull frogs have been doing serious damage to the local tree frog population. Yearling sheep, lamb and frogs legs, which are already consumed on island could be encouraged to become more of a staple food item. This would have the combined effects of reducing the damage to the wild ecosystems that the invasive species inflict and contributing to local food security. It is imperative that these invasive species be sustainably harvested if we would like them to be a food source long term, benefiting locals as the climate changes. The proposal is a program of regular rather than an eradication effort.
The final strategy presented by this sub-group is education. They stressed the importance of building on local knowledge, sharing of ideas, and providing awareness raising about how we rely on our wild ecosystems. They are suggesting an education program with a long term historical view with the goal of making Lasquetians all more aware of our own impacts and how to reduce those impacts on our wild areas. The team is promoting education as a strategy especially regarding the ocean. The importance of the health of forage fish and other crucial species. Collaboration between LINK, Lasqueti Forage Fish Conservation group and the adaptation focus group could help work towards these adaptation strategies. A first step could be to begin an educational and inspiring column in the local monthly paper on the ways to reduce our impacts on the local forests, watersheds and coastlines, underscoring the community's dependence on the wellbeing of these systems.
b) The Water Management Group
The main concern of this sector group is the expected impacts from the changes in precipitation and temperature causing reduced access to water during the dry, summer season. As outlined earlier in this paper, the community needs water for growing crops, drinking, washing, fire protection, micro hydro power generation, etc. The main goal identified by this group is to increase water storage capacity. Given the expected increase in rainfall during the winter season, there may not be a lack of water if storage can be increased to provide water through a longer then currently normal dry season.
The specific strategies devised to increase storage capacity are: education (best practices for catching, conserving and filtering water) and neighbourhood watershed management groups.
Education is a low hanging fruit among these strategies because most residents already catch and store rainwater. It is not introducing a new idea to the community, but building on a familiar practice. The photo below is an example of a rain water catchment systems, including catchment surface and storage tanks. The goal of education around this would be in encourage expansion of storage for climate change adaptation purposes. Further goals of the educational strategies would encourage digging ponds and putting in cisterns rather than discouraging deep wells. Deep wells can lead to salinization of the fresh water via saltwater intrusion. Also encouraged will be gravity fed systems. In such a system, the stored water is up slope from the house hold or garden. These systems are considered better due to not needing pumping systems, which are often gas powered an thus contribute to co2 emissions. Ponds can be dug even where soil is sandy and this is done by lining the pond floor with locally available clay. Much of these water catchment best practices are already outlined in the Best Practices for Living and Building on Lasqueti document. As such, this education strategy need only help distribute these documents more widely and encourage the implementation of the practices outlined.
The concern about conflict due to increased water scarcity was addressed by the neighbourhood watershed management strategy. The sector group feels that they can prepare for this possible water scarcity best with a two-fold strategy: increasing storage but doing so in a way that explicitly deals with the reality that what one does with surface water affects others in the same watershed. This strategy will involve:
1) Watersheds to be mapped.
2) Those living in each watershed are encouraged to collaborate to establish the catchment potential of their watershed, in terms of ground water, rainfall and lakes, and streams.
3) These groups can then identify catchment goals based on total expected need for all the neighbourhood's household, irrigation and fire safety needs.
4) With the help of local water catchment experts, the watershed management groups can devise a collective water storage system, using ponds, cisterns or a combination of the two. Digging, tank and line maintenance costs can be shared, thus reducing individual costs while increasing water access.
There was much enthusiasm for this strategy among the focus group as it builds on Lasqueti's wealth of social capital and ability to work together. The island already has one very successful example of a cooperatively managed water source: Pete's Lake which 30 households share and care for. This strategy builds on existing expertise, experience and local strengths. It will have multiple benefits: increased water access, reduced costs and reduction in the likelihood of conflict. If neighbourhoods have established strategies and agreements regarding use and conservation and they work together to increase storage capacity this will have two fold benefits: less scarcity and established methods of cooperation to reduce conflict over use in times of scarcity.
One complication for this strategy centers around water rights. Do residents of watershed have full access to the water? Are there issues of water rights that need to be addressed? According to one focus group member, the crown owns the water but private owners can own the lake, pond or stream bed. Users gain access with water licenses. He went on to say that "you don't have rights to the whole water shed. You have a license to take out so much and store so much and then there can be multiple licenses. If there's ever less water that can supply all of them it's whoever had the first license that gets it and the others legally have to shut off their intake."
Another important point addressed by this sector group was that increased storage of water does not necessarily extend to benefiting wilderness and wildlife during drought. Storage in lakes and ponds is better for this than storage in cisterns. They create habitat and accessible water source and contribute to ground water regeneration in ways that closed tanks do not. Another important point raised is that increased storage can lead to increased forest clearing, which creates co2 emissions. Both these concerns can be addressed by education efforts.
c) The Food Security Group:
The main objective of this sector group was to strategize ways to counter the impacts to food security induced by climate change effects such as drought conditions, invasive species, increased storms and higher temperatures. The main strategies outlined by the sector group were: neighborhood watershed management groups, education (about water tables, plant varieties, seed saving, dealing with diseases and pests) and strategic arable land use.
It was this group which came up with the idea for the neighbourhood watershed management groups and the water group loved it and adopted it for their purposes as well. One member of this sector group explained the rationale: "well, by developing plans by watershed, you're linked like a neighbourhood. So if there was watershed planning, or like neighbourhood water watch…where you talk about where the catchments are, who's using what, who's got licenses, so you know, you can coordinate." The implementation stages for the watershed groups are the ones detailed in the previous section.
In addition to the watershed group strategy, they identified the need for education in various aspects of food growing. One is ground water: "because it's not visible, it's hard to understand how it works". As such it is easy to deplete ground water without knowing it. Andrew, the focus group's resource manager offered to create a draft communication strategy around increasing awareness about ground water. Another education need is on the use of more diversity in crops and seeds, so that if something goes wrong with one variety, there are others to provide back up. Encouraging the development of local varieties, planting crops for the expected changing climate and the saving and sharing of seeds are also priorities established for education strategy.
These educational methods could include activities and booths at the Fall Fair and Saturday Market and columns in the local paper. This could be designed and implemented in collaboration with the Lasqueti Permaculture Guild, the Food Bank, the Saturday Market Association, and the Farmer's Institute. The contribution of the adaptation focus group could be to enhance these by providing the additional dimension of local adaptation to climate change.
The final strategy of this sector group was strategic arable land use. The idea is that rather than clearing forested land to expand local food production, residents should maximize the use of existing cleared arable land. The focus would be on those areas that are not in immediate proximity to coast line where saltwater intrusion is a concern. The main steps are: to map the existing arable land on the island and identify the areas that are not currently in use but could be. The next step is to match up land owners who have available land with people wanting to grow food. The rationale behind this is the demographic challenges mentioned earlier in the paper: there is an aging population, who are farming less than they used to, and an influx of younger people with the desire and energy to grow food but without access to suitable land due to restrictive land prices. The idea is to facilitate land leasing or loaning so that young people with energy to farm are paired with residents who have unused land available for growing food. This is something that already happens informally but an intentional strategy can aid in coordinating this towards the goal of maximizing food production without further land clearing.
This strategy echoes concerns of other community groups, and as with the educational strategy, it builds on and contributes to existing community initiatives and combines efforts to work toward common community goals. These are not strategies that need to be built from the ground up and as such do not require much startup resource or energy. These strategies represent good mainstreaming with existing community goals and co-benefits with mitigation efforts.
d) The Social and Infrastructure Group
The final sector group was tasked with strategizing ways to reduce the vulnerability due to isolation and lack of access to health care in the case of ferry cancelations, and/or phone and internet malfunctions. Their strategies include: setting up alternative communication systems, encouraging vaccinations (and other ways of building health), creating list of professional health care providers on Lasqueti.
Although access to official healthcare on island is limited to a nurse visit one afternoon a week and a volunteer first responder emergency service, there are several health care professionals on island although not working on Lasqueti in an official capacity. They could be called on in times of emergency when access to Vancouver Island is cut off due to ferry cancelations. One member of this sector group expressed: "we do have a lot of good health care professionals on island here that would be good to involve or at least have available in times of emergency or if it was a major emergency and we couldn't get people off island, they could be there so…I think of it as increasing the communication among ourselves and our knowledge base about who's available and what systems exist here, now."
The next strategy regards the communication system. The group asked the question: How do we get help in an emergency if a storm knocks down the tower and the internet doesn't work or the phone lines go down as they already regularly do? The group figures that at present communication would happen by neighbours checking on each other during or after storms, though in a haphazard, possibly inefficient way. But if we did have a planned system of communicating, people could more quickly access help when needed. The group is recommending that this alternative communication be organized by way of the neighbourhood watershed management groups mentioned above. This would make sense, being that neighbours share watershed, but may not be ideal as the road network does not necessarily correspond to watersheds. This could hinder the ease of the ability of people to drive to check on each other. Regardless of how the emergency communication is set up geographically, the idea is to implement a network of buddy systems whereby each household has one or two other households to check in with them in person in the event of a storm or other event that takes down phone and internet communication. There was also talk about using CB radio systems and one member has been doing research into the feasibility of this. This strategy is quite promising in that it builds on the existing social norm of community care, and simply aids by planning communication in extreme situations.