Striped Chicken Farm & Feed
The Striped Chicken Farm and Feed Store
Why go off-island when you can get all your farm, feed, and pet supplies, competitively priced, right here!
Where: Still at Bonnie's Barn at the South End (on Main Rd. Keep going until you see the Open sign)
Opening soon at the North End in the new parking lot beside the Arts Centre!
When: Tuesday and Friday 10:00am - 1:00pm
Call Silke or Kristos at: (250) 333 8822 or Text (250) 927 - 7455
Pet Food & Supplies:
Acana, Purina, Premium Edge, Organix, Taste of the Wild and More!
Kitty litter
Wild Bird Seed, Sunflower Seeds
Livestock Feed and Supplies: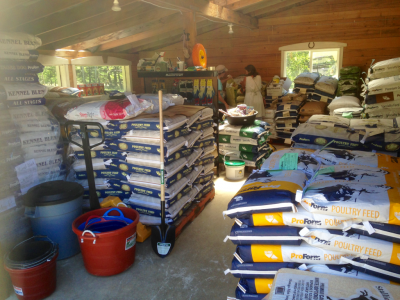 For Chickens, Goats, Hogs, Horses, Rabbits, Sheep, Ducks - organic and non-GMO
Mineral blocks, supplements, feed buckets, totes, care and grooming supplies
Hay on order, straw, pine shavings
Farm & Fencing supplies:
T-posts, fencing, gates, and supplies
Wheelbarrows, flat-free tires (yes!)
Rodent proof containers, metal garbage cans
Rain Barrels and buckets
On order:
Hay, water troughs, tidy tanks and pumps, firelogs, ladders, and almost anything you need !
Rain barrels
DELIVERY!
Call the day before to have your items delivered on a tuesday or friday.
Delivery fees: $2 / bag
We are competitively priced on island, you don't have to haul it on the ferry!
Open Tuesdays and Fridays
10:00 am - 1:00 pm
Please call if you can't make these hours and we'll figure something out that works for you.